Welcome to THE job hunter and career planners website
This site is dedicated to helping you make career & life choices and helping you find your perfect job.
  R-2-E & E-2-E Masterclasses.  Click on the button. 
Whether you're an R-2-E candidate (return 2 employment) or an E-2-E candidate (entry 2 employment), or just have itchy feet, you'll find something useful here.
Since 1993 my books have helped thousands of people to plan their lives and careers, and to get a new job.  My latest books is 'How To Get that Job'.  You can find out more about them by clicking the links below.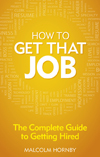 On this site you'll find lots of free advice, links to recruitment websites, government agencies and numerous websites to help you in your jobsearch.  Simply scroll down or click the buttons on the left.
Good luck
Malcolm Hornby Chartered FCIPD FCIM
Please visit my blog to leave your comments
Top Recruitment Websites
These are my top 5 recruitment websites; based on user-friendliness, useful information and number of jobs. This is an independent view.  I have no commercial interest in any of these sites
I would strongly recommend that you post your CV onto all of these websites, so that recruiters can find you when they search for candidates.. 
I would also recommend that you modify your CV very, very slightly and re-upload it each week so that it will come high in the rankings recruiters do searches. 
When I last visited, between them they were advertising over 600,000 jobs in the UK!
1 Reed  Claims to be UK's top job site.
4 Jobsite
Also have a look at....
Jobcentre Plus  the government's website with a phenomenal number of jobs
For graduates register at Target Jobs:
There's also hundreds of thousands of jobs in National and local papers and specialist journals.  No matter where you live in the UK you'll find links to jobs in your area when you scroll down.  Good luck!
National Newspapers
Daily Express www.express.co.uk 
Daily Mail www.dailymail.co.uk 
Daily Mirror www.mirror.co.uk 
Daily Telegraph www.telegraph.co.uk 
Financial Times www.ft.com 
Guardian www.guardianunlimited.co.uk 
Independent www.independent.co.uk 
Mail on Sunday www.mailonsunday.co.uk 
Sunday Mirror www.sundaymirror.co.uk 
Sunday Telegraph www.sundaytelegraph.co.uk 
Sunday Times www.sunday-times.co.uk 
The Observer www.observer.co.uk 
The Times www.the-times.co.uk 
Professional Journals / Newspapers
Admin/sec www.Londoncareers.net 
Architectural www.arplus.com 
Automotive www.motortrader.com 
Entertainment & Stage www.thestage.co.uk 
Hospitality www.caterer.com 
Hospitality www.leisureweek.co.uk 
Insurance www.postrnag.co.uk 
Legal www.lawgazette.co.uk 
Legal www.the-lawyer.co.uk